Recently, at the Porirua e-Learning Trust's 70th Computers in Homes graduation, graduate Vailogoua Futi received a prize for the best 'e-Learning Story'. In story and email Vailogoua Futi told how skills from Computers in Homes helped with schoolwork, staying in touch with family and her confidence:
My Computer with Internet has now been connected and my kids were so excited when we started with their homework. Now I can see what's going on in their schoolwork and activities. I will assist them by sharing the skills that I've got from you. Every thing is fine and settled in my family now since we had Computer with Internet connection and a mother with Computer Skills.
I'd also like to extend my gratitude to the Internet provider – 2 Degrees, for their instant and great service in providing Internet to our home.
Thank you also for the wonderful Prize … We have now used it (a Skype pack with headphones and a web cam) to communicate with our families in Samoa and overseas. 
Here is her winning story.
My name is Vailogoua Futi, a mother of four kids, who migrated from Samoa in May 2016. It is a great pleasure to express my gratitude to the great support from this Computer Course to the families who are just starting to live in New Zealand like my family.
When we just arrived in New Zealand in May this year, I found out that it was really hard for me and my kids to re-settle and to begin a new life here. We stayed with my sister and her family in for three months before we found our own house to move to. We are now staying at  Cannons Creek as we moved there in August. Everything was settled after two weeks since we moved except for one thing which is a Computer with Internet to help with my kids' homework.
I felt so sorry for my three kids who are attending Windley School in Years 3, 7 and 8 because I knew that it was hard for them to catch up with the New Zealand system as every child has to use a computer but they didn't have any experience in Computer Literacy. Not only that but it was also frustrating because we don't have any Computer or Internet at home to help them to catch up.
In the first week of October, I was so glad when I received a Newsletter in the mail about the Computers in Homes Course. I couldn't wait to contact the office and I was told to come to the RSA in McKillop Street to enroll and then to start the following week.
I started this Computer Course on the 19th October 2016. I was feeling bit nervous and unconfident when I just arrived and saw all these people like me already working on their own as I actually started in the second week of the Course. However, the lack of confidence that I had, slowly disappeared and I was feeling relaxed when I heard our Tutor, Tim's calm voice and friendly face trying to introduce everyone and everything to us. The way he taught us was so helpful and easy to understand about computer literacy and different programs.
Throughout the Computer Course, I became more confident and really enjoyed attending every week so that I wouldn't miss out on any new thing Tim and Peter taught and shared with us about Computer Programs.
This is the last week of this Course and I have learnt a lot about computer literacy as well as a lot of new things which will be a great help to my kids especially my daughter who will attend Porirua College next Year. My kids are looking forward to learning a lot from their Mum when I finish this Course so that I will share with them the knowledge and the skills that I've got, using the Computer that I will pick up at the end of this Course.
Lastly, I would like to express deep sense of thanks and gratitude to Tim, Peter and Noel for your time and the great work that you have done. Thank you for sharing your knowledge and skills to us parents in order to support our families and our future generations. God Bless you all.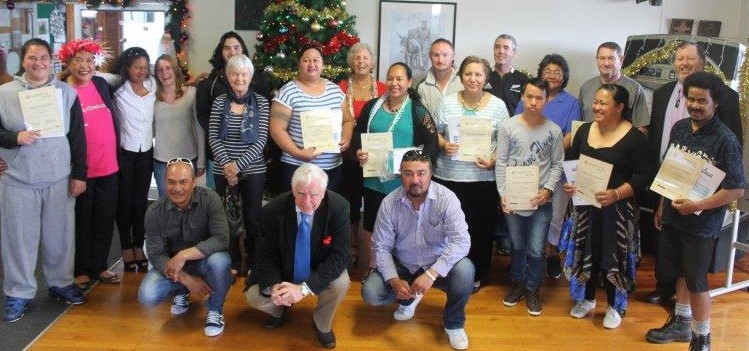 Read more about the graduation at e-Learning Porirua, the oldest Computers in Homes Trust in New Zealand, operating since 2001 at e-learning.org.nz