Last week e-Learning Porirua celebrated having influenced the lives of over 2,000 low-income families in Porirua, and honoured those supported the Trust during its journey.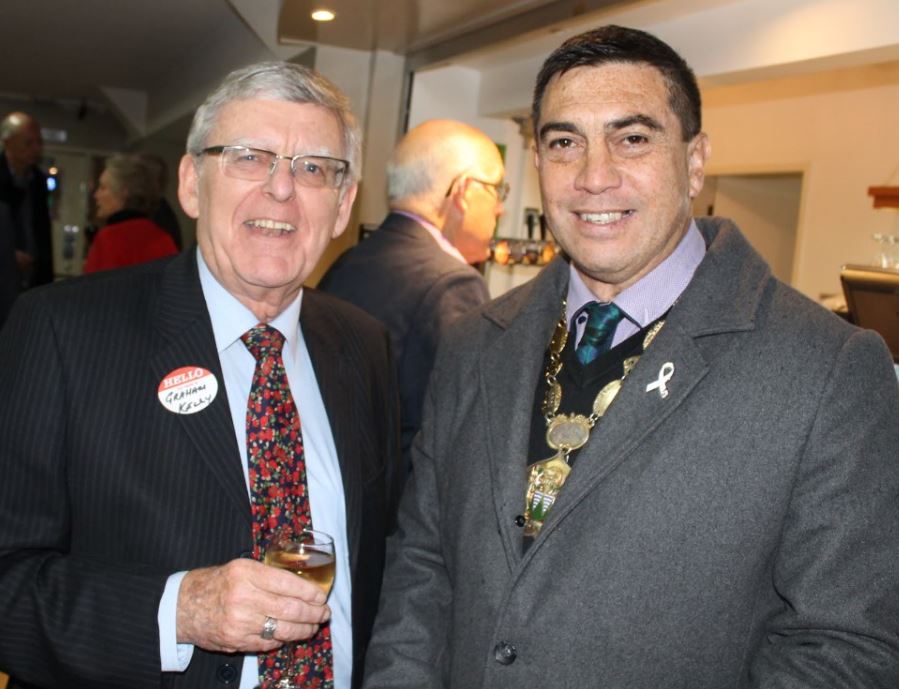 Chair of the Trust and former member of Parliament for Mana, Graham Kelly, welcomed Kris Faafoi, MP for Mana, Mayor Mike Tana who would be presenting the awards, and many other honoured guests.
Porirua – part of Computers in Homes from the start
Porirua has been a partner in Computers in Homes right from the start. Computers in Homes was piloted by the 20/20 Trust in 2000 at Cannon's Creek school in Porirua and at Panmure Bridge Schools in Auckland, helping 25 families at each school. The project was launched  at Cannons Creek School on 30th July 2000 by Mana MP Graham Kelly and Porirua Mayor Jenny Brash. (Mark Gosche MP launched the Auckland project on Saturday 26th August.)
e-Learning Porirua trust set up
e-Learning Porirua was established as a Charitable Trust in 2001 by Graham Kelly to continue helping Porirua families with Computers in Homes and other programmes, including Stepping UP, and has done a fantastic job ever since, reaching over 2,000 families.
Significant impact on digital exclusion
When the Trust was formed in 2000-2001, 80% of Whitby's households had computers compared with only 6% in eastern Porirua. The 2007 census showed that the percentage in Whitby remained the same but Porirua East's figure jumped to 26%, a statistic that e-Learning Trust would like to take some credit for.
End of Government funding leaves thousands without computer skills
Government funding for Computers in Homes ended on 30th June 2017. In his speech, Graham predicted that this decision would cause many Computers in Homes organisations to close down, leaving thousands of families unable to obtain computer skills.
'Since the formation of the eLearning Trust, said Graham, 'we have given, or financed, interest-free loans to the 25 low decile schools in our city to enable them to obtain new computers, to the value of over half a million dollars. This has lifted their ratio of computers to pupils and it has materially affected their combined roll of over 7000 students. In addition, the 2000 home computers we have given to parents have benefited more than 500 other adults in those households who have got jobs as a result. We have lost count of the number of parents who have completed our courses and with their new skills, now have jobs as teachers, nurses, forecourt managers, social workers and IT professionals.
Computers, skills put into 30% of low-income homes
'But what about the 2,000 parents in Porirua and Linden, and the over 200,000 in New Zealand, who have now been left high and dry without the prospect of obtaining computer skills to get a job? There are 18,000 homes in Porirua and 6,000 of these are in low decile areas. This means that we have now put computers in around 30% of low-income homes.The most significant thing our adult students achieve by the end of a ten-week course, including those on our special refugee courses, is confidence. They are able to write their own CVs and front up to job interviews, or go onto further training or education. 32% of our students get a job within a year.
Dramatic impact on education attainment
'Our ongoing research shows the dramatic impact our Computers in Homes programme is having. The most unexpected bonus is that because families have a home computer, 33% of the children of these adult students from our low decile schools are achieving above average attainment levels in education compared to the levels in the country as a whole. This comparison includes students at all the high decile and private schools. Another 62% are reaching average attainment levels and only 5% are achieving below average.
Improving employment, economic and social outcomes
'By putting these families on the first rung of the ladder they are able to achieve so much more and look far beyond their previous horizons. If our graduates are obtaining higher paying jobs than they would have otherwise obtained, as well as improving their economic and social outcomes, that has to be good for our city and our society. The Government lets this disappear at its peril'.
Laurence Millar, Chair of the 20/20 Trust, accepted a Certificate of Appreciation on behalf of the Trust.  The citation read, in part,
"Our Trust has worked closely with the 2020 Communications Trust, particularly over the past 10 years following the signing of an agreement between the two organisations on working collaboratively.

Their contribution has included valuable research on the outcomes of our work with families, reports and publications and negotiating contracts with internet providers to benefit our families."
Further information
Read the full article on e-Porirua website – includes the many other people and organisations honoured.
Computer literacy helps Samoan family tells the story of one Porirua family helped
Report on Computers in Homes 7/11/2000 (pdf) has full details of the pilot
Beyond Computers in Homes: Since 2000, the programme has helped more than 19,000 families build digital skills and confidence, connect to the internet and participate more fully in the digital world. In May 2016, the government advised that funding of the programme in its present form would not continue after 30 June 2017. See New Zealand's Digital Inclusion Challenge: Beyond Computers in Homes for how we in the 20/20 Trust have prepared for this transition and our view of the future for digital inclusion in New Zealand. We are continuing our discussions with government and others to secure funding for programmes that increase digital inclusion in digitally disadvantaged communities.
Meanwhile, we understand, e-Learning Porirua intend to carry on with their existing reserve funds and seek other funding.